Stained Tooth Tasting Kit
FROM THE WINERY TO YOUR LIVING ROOM
<Video>

Times being what they are, we brainstormed ways to bring the Dusted Valley experience to you. Sending Chad and Corey door-to-door with wine in hand ended up being a bad idea for a variety of reasons, so we came up with the next best thing: The Stained Tooth Tasting Kit! We hope you enjoy these special new releases crafted by our winemaking team. Most of all, we hope this sparks a little bit of joy and makes staying in a whole lot more fun!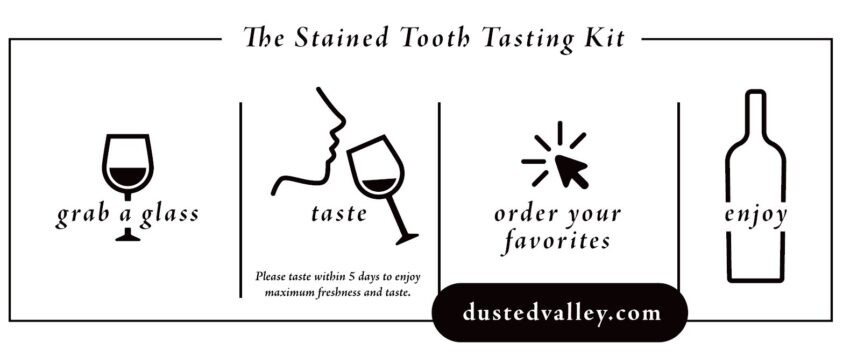 ---
$50 Off  in our Tasting Rooms or at DUSTEDVALLEY.COM

Each tasting kit includes a personal gift code for $50 towards a minimum purchase of 3 bottles. Club members may use for Fall Release.

---
Additional Savings with Stained Tooth Society Membership

Not a club member yet?  Not to worry! You can use the gift code on a minimum purchase of 3 bottles.  Also, consider joining our Stained Tooth Society to enjoy the benefits of membership! Click here to learn more about our club offerings and benefits.

---
Zoom Tastings with the Winemaking Team

ABC…
---
Featured Fall Release Wines
2018 Tall Tales Syrah – Stoney Vine Vineyard (Estate), Walla Walla Valley
100% Syrah
Named after Corey's Grandpa Fred and his famous "tall tales," this Estate grown and produced bottling of Syrah exemplifies what the Rocks District of Milton Freewater is all about – earthy, gamey, aromatic and concentrated with a medium body. Whether it was Grandpa Fred's heroics on the river as a young boy or the mighty bears he slayed in the big woods, his stories were always fascinating. Perhaps that's what inspired Corey to become a winemaker — every bottle of wine is a new story waiting to be told! Details > PDF Tasting Sheet
2018 Wallywood – Stone Tree Vineyard, Wahluke Slope
92% Mourvédre, 5% Grenache, 3% Petite Sirah
With tasting rooms in both Walla Walla and Woodinville, this wine is a true celebration of all things Washington wine. Stone Tree Mourvédre serves as the backbone to this big, bold blend and is a truly delicious expression of Stone Tree Vineyard itself. Drink some and express yourself. Details > PDF Tasting Sheet
2017 BFM – Southwind Vineyard (Estate), Walla Walla Valley
79% Merlot, 8% Cabernet Franc, 7% Cabernet Sauvignon, 5% Malbec, 1% Petit Verdot
We love Washington State Merlot, and think it's one of the greatest places in the world to grow and make it. Southwind Estate Vineyard lies on the Oregon side of the Walla Walla Valley, perched high on a ridge of ancient lava flows overlooking the beautiful Walla Walla Valley. The diversity in elevation and soil profiles make it an extremely special place to grow grapes. Our 2017 BFM consists of Merlot, Cab Franc, Cab Sauv and Petit Verdot, and stands up to its reputation of being the biggest Merlot based blend coming out of Washington today! Details > PDF Tasting Sheet
2018 Cabernet Franc – Southwind Vineyard (Estate), Walla Walla Valley
98% Cabernet Franc, 2% Petit Verdot
Southwind Estate Vineyard lies on the Oregon side of the Walla Walla Valley, perched high on a ridge of ancient lava flows overlooking the beautiful Walla Walla Valley. The diversity in elevation and soil profiles make it an extremely special place to grow grapes. Varietal typicity is spot on from the floral aromatics to the dark fruits, slate, and mineral. This generous vino is fabulously food friendly and fantastically franc-o-licious!  Details > PDF Tasting Sheet
2017 V.R. Special Cabernet Sauvignon, Columbia Valley
95% Cabernet Sauvignon, 5% Petit Verdot
This is Dusted Valley's top Cabernet Sauvignon and is crafted from some of the oldest and most sought after vineyards in Washington State, including Dionysus and our Southwind Estate Vineyards. This wine is dedicated to the loving memory of Chad's Grandpa Vernon Rhodes. He was a truly amazing man, and this Cab takes its name from his miraculous chocolate chip cookie the "V.R. Special". Details > PDF Tasting Sheet
2017 Petite Sirah
88% Petite Sirah, 12% Primitivo
Our Petite Sirah hails from Stone Tree Vineyard in the heart of the Wahluke Slope AVA and exemplifies the luscious fruit and power that this vineyard is so well known for. Bound by the Columbia River and the Saddle Mountains, the rapid cooling in the evening helps retain naturally high levels of acidity, which in turn preserves the varietal characters of the grape. Get ready – this wine starts big, stays big and finishes big! Details > PDF Tasting Sheet