BRINGING THE TASTING ROOM
TO YOUR LIVING ROOM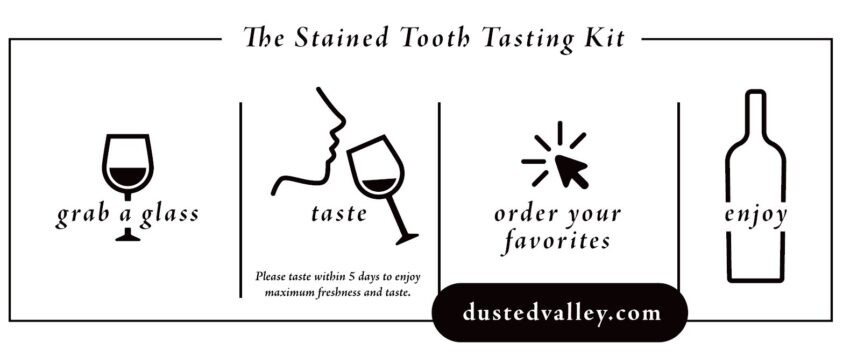 Your Tasting Kit Includes:
Five – 5 oz samples of our small lot, hand-crafted wines (easily serves up to 4 people or a generous serving for 2)
Invitation to join for a Winemaker led Virtual Tasting via Zoom
Resources to do your own self guided tasting (tasting notes and videos from the winemaking team linked below)
$25 Gift Card Code which can be used towards a future purchase of 3 or more bottles
*SPECIAL NOTE* To maximize quality and freshness of the wines, we recommend you consume within 10 days of receiving your tasting kit.
---
Taste with the Winemaking Team (Via Zoom)

Interested in joining a virtual wine tasting with our winemakers? Following the purchase of your tasting kit, we'll send you an email with a link to register for an upcoming tasting via Zoom. We'll taste through each of the wines together, discuss vineyard sources, winemaking decisions and of course answer questions from YOU!
Upcoming Virtual Tastings
March 27th at 5:00PM PT
April 1st at 5:00PM PT
Self-Guided Tasting Experience

Check out the resources below to maximize your tasting experience with the Stained Tooth Tasting Kit. Then, grab a glass, your day is about to get delicious!
Download Tasting Tips From the Winemaking Team
Plus, videos from the winemakers and tech sheets for each wine below!
---
Spring Release Featured Wines
2018 Stained Tooth Syrah – Columbia Valley
97% Syrah, 3% Viognier (co-ferment)
You know you're drinking the good stuff when your teeth develop that unmistaken hue. The Stained Tooth Syrah is sourced from some of Washington State's top vineyards including our Stoney Vine Estate Vineyard on The Rocks and Stone Tree Vineyard on the Wahluke Slope. The bouquet floats out of the glass and draws you into all the extraordinary fruit while the ripe tannins provide a silky finish.
Details > PDF Tasting Sheet
2018 Rachis Syrah – Stone Tree Vineyard, Wahluke Slope
92% Syrah, 5% Viognier (co-ferment), 3% Mourvèdre
Our Rachis Syrah is the fraternal twin to our Tall Tales Syrah, and never can two brothers be so different. The bigger,
bolder, more fruit forward flavors of this wine show the breadth of character that Syrah can have. This is another strong vineyard designate showing from Stone Tree Vineyard.
Details > PDF Tasting Sheet
2018 Malbec, Southwind  Estate Vineyard, Walla Walla Valley
93% Malbec, 5% Petit Verdot, 2% Cabernet Sauvignon
The 2018 Malbec is a vineyard designate wine from our Southwind Vineyard Estate. This is an expressive wine where dark, earthy and herbal characteristics combine with the an array of fruit forward characteristics to yield a well-balanced, sophisticated Malbec. Southwind lies on the Oregon side of the Walla Walla Valley, perched high on a ridge of ancient lava flows overlooking the beautiful Walla Walla Valley. The diversity in elevation and soil profiles make it an extremely special place to grow grapes.
Details > PDF Tasting Sheet
2018 BFM – Dionysus Vineyard, Columbia Valley
85% Merlot, 8% Cabernet Sauvignon, 7% Petit Verdot
We love Washington State Merlot, and think it's one of the greatest places in the world to grow and make it. That's part of why we are so honored to get to work with a little slice of history with the old vine Merlot at Dionysus Vineyard. Our 2018 BFM consists of Merlot, Cabernet Sauvignon and Petit Verdot, and stands up to its reputation of being the biggest Merlot based blend coming out of Washington today!
Details > PDF Tasting Sheet
2018 Petite Sirah – Stone Tree Vineyard, Wahluke Slope
90% Petite Sirah, 7% Primitivo, 3% Syrah
Our Petite Sirah hails from Stone Tree Vineyard in the heart of the Wahluke Slope AVA and exemplifies the luscious fruit and power that this vineyard is so well known for. Bound by the Columbia River and the Saddle Mountains, the rapid cooling in the evening helps retain naturally high levels of acidity, which in turn preserves the varietal characters of the grape. Get ready – this wine starts big, stays big and finishes big!
Details ->PDF Tasting Sheet
---
Was one of your wines a bit fizzy when you opened it?
The winemaking team wants you to know what that's about.  The bottles in your STS Tasting Kit are bottled from our regular 750ml bottles.  To maintain the integrity and freshness of the wines, our team places a small amount of CO2 in each bottle right before filling.  Sometimes, some of this CO2 dissolves into the wine and creates tiny gas bubbles.  If you experience this, it's totally natural and there is absolutely nothing to be concerned about.  Give your glass a really good swirl and you will find the fizz dissipates very quickly. The more you know!
---
Additional Savings with Stained Tooth Society Membership

Not a club member yet?  Not to worry! You can use the gift code on a minimum purchase of 3 bottles.  Also, consider joining our Stained Tooth Society to enjoy the benefits of membership! Click here to learn more about our club offerings and benefits.
Back To News