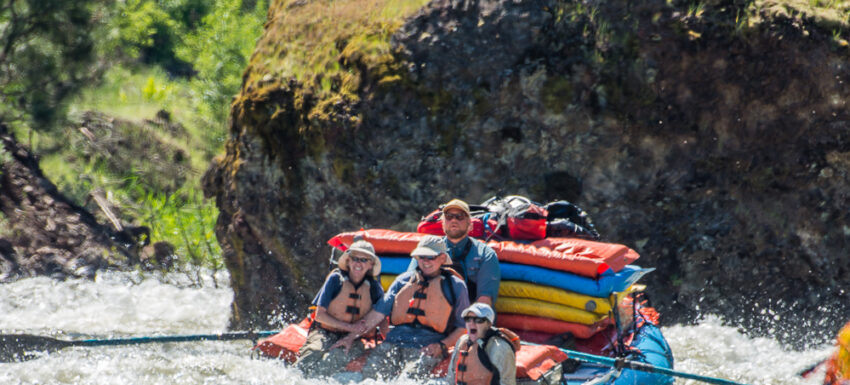 Dusted Valley has once again teamed up with Minam Store Outfitters and Andrae's Kitchen to provide a Wine and Food on the River experience for our loyal customers.
This exclusive trip takes place June 3-5, 2023, and will be filled with beautiful wines poured by Chad, great dinners from Andrae Bopp, friends, and a 40 mile float down the wild and scenic Grande Ronde River.  This is not an ordinary rafting or camping trip.  Minam Store Outfitters provides all rafting and camping gear (which includes luxurious 6 man tents per couple, cots, extra thick sleeping pads, and roomy sleeping bags).  After a day of absorbing great scenery and fun class II whitewater, we will relax at camp, go for a hike, read a book, enjoy a nap, play some bocce ball, learn about the geology, flora, and fauna of the canyon, and just enjoy some good company.
Andrae will be preparing multi-course dinners while Chad pairs them with new release Dusted Valley wines as well as some special reserves from our cellars.  Trips will begin at the Minam Store, a short 60 mile drive from Walla Walla over the Tollgate highway.  Transportation from the take-out back to Minam is provided.
Booking Information
Space is limited on these trips.  Follow this link to book your spot and feel free to call or email Grant Richie (head guide and owner of the Minam Store) directly at 541-437-1111 or grant.minam@gmail.com with questions.
More trip information is on the Minam Store website at http://minamstore.com/guided/wine-and-food-on-the-river  Past trip pictures are also available on the Wine and Food Facebook page and Instagram.
See you on the river!
Back To News