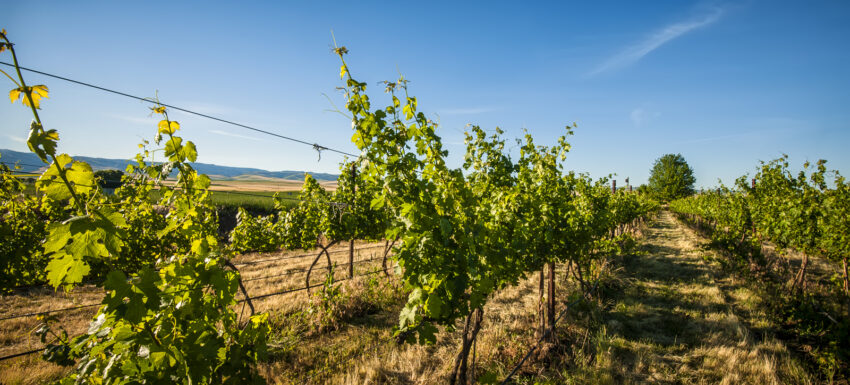 Spring Release Kicks of March 9th
Spring is coming (we promise!) and so are *FIVE NEW RELEASES* from Dusted Valley! Starting March 9th, you can taste our new line-up in one of our three tasting rooms -OR- take advantage of one of our upcoming events.
Book an appointment to taste with us in Walla Walla, Woodinville or Edmonds.
Spring Release Meet the Winemaker Events

EDMONDS
March 12th, 11AM-5PM  RSVP Now
March 23rd, 4PM – 8PM *SOLD OUT*
WOODINVILLE
WALLA WALLA
April 1st, 11AM- 5PM  RSVP Now

Please note that all tastings this weekend will take place at the Winery (980 Merlot Drive)
---
Stained Tooth Society Members
Check out the information below for everything you need to know about this year's Spring Release.
COC & STS 6-BOTTLE MEMBERS, your spring release allocation includes one bottle of each of the five new releases listed below PLUS our 2020 Cabernet Sauvignon.

STS 3-BOTTLE MEMBERS, your allocation includes the 2020 Stained Tooth Syrah, 2020 Malbec and 2020 Cabernet Sauvignon

If you wish to CUSTOMIZE YOUR ALLOCATION, you have until Sunday, April 2, 2023. Simply, book a reservation to taste with us in Walla Walla, Woodinville or Edmonds, or login to your account and customize your allocation online. We highly encourage you to take advantage of this option early as several of our new releases are extremely small lots, and we expect them to sell out during release.
This Spring, Members enjoy the following FLAT RATE SHIPPING rates:

3 Bottles – $20
6 Bottles – $25 (Complimentary for COC Members)
12 Bottles or more – FREE
Valid for FedEx Ground Shipping Only
Not a member of the Stained Tooth Society? Join today and instantly receive access to our small-lot wines and preferred pricing.  JOIN TODAY
---
New Spring Release Wines
2021 Squirrel Tooth Alice – Stone Tree Vineyard, Wahluke Slope
88% Grenache, 12% Syrah
This kick ass Grenache focused blend hails from Stone Tree Vineyard and stirs things up a little,  probably not unlike the woman it is named. Soft entry and ripe fruit with acid and tannin to please everyone. Who is the infamous Squirrel Tooth Alice? Legend has it that this party girl of the early West made being a cowboy truly "legendary". We felt it was necessary to pay tribute to one of the ladies that kept the lonesome cowhands springing out on the ranch.
2020 Stained Tooth Syrah – Columbia Valley
97% Syrah, 3% Viognier (co-ferment)
You know you're drinking the good stuff when your teeth develop that unmistakable hue. The Stained Tooth Syrah is sourced from some of Washington State's top vineyards including two of our Walla Walla Valley estate vineyards – Stoney Vine and Southwind. The bouquet floats out of the glass and draws you into the extraordinary fruit while the ripe tannins provide a silky finish.
2020 Rachis Syrah – Southwind Vineyard Estate, Walla Walla Valley
100% Syrah
Our Rachis Syrah is the fraternal twin to our Tall Tales Syrah, and never can two brothers be so different. The bigger,bolder, more fruit forward flavors of this wine show the breadth of character that Syrah can have. This is another strong vineyard designate showing from our estate vineyard at Southwind.
2020 Malbec, Southwind Vineyard Estate, Walla Walla Valley
97% Malbec, 3% Petit Verdot
The 2020 Malbec is a vineyard designate wine from our Southwind Vineyard Estate. This is an expressive wine where dark, earthy and herbal characteristics combine with the an array of fruit forward characteristics to yield a well-balanced, sophisticated Malbec. Southwind lies on the Oregon side of the Walla Walla Valley, perched high on a ridge of ancient lava flows overlooking the beautiful Walla Walla Valley. The diversity in elevation and soil profiles make it an extremely special place to grow grapes.
2020 Barrel Thief Cabernet Sauvignon – Sconni Block Vineyard Estate, Walla Walla Valley
93% Cabernet Sauvignon, 4% Petit Verdot, 3% Merlot
Inspired by our Winemaking Team and crafted exclusively for our Stained Tooth Society members, the Barrel Thief Series is all about the thrill of discovery. The barrel thief is a tool used in the cellar by
winemakers to sample barrels, and each year our winemakers select a few barrels to "thief" something fun, exciting and unexpected. This is our Barrel Thief Series – wines crafted and bottled as unique offerings that may never be repeated again.
Back To News