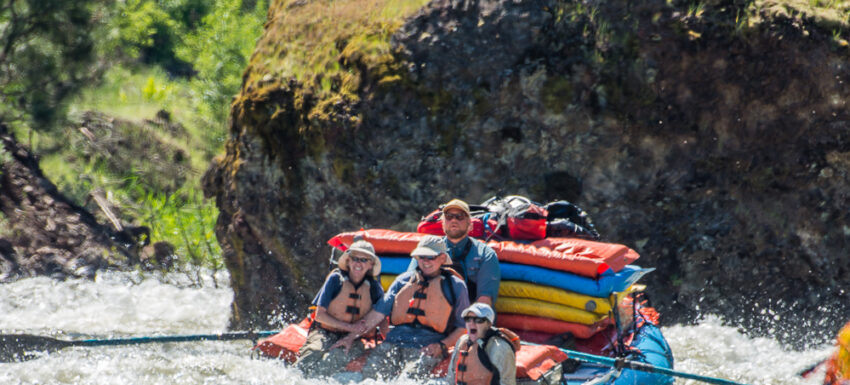 *Thanks for your interest. This event is SOLD OUT*
Dusted Valley and Pepper Bridge Winery have teamed up with Minam Store Outfitters and Andrae's Kitchen to provide a Wine & Food on the River experience for our loyal customers.
This exclusive trip takes place June 2-5, 2019, and will be filled with your favorite Dusted Valley and Pepper Bridge wines, great dinners from Andrae Bopp, good friends, and a 4-day float down the wild and scenic Snake River through Hells Canyon. This is not an ordinary rafting or camping trip.
Minam Store Outfitters provides all rafting and camping gear (which includes luxurious 6 man tents per couple, cots, extra thick sleeping pads, and roomy sleeping bags).  After a day of absorbing great scenery and fun class III+ whitewater, we will relax at camp, go for a hike, read a book, enjoy a nap, play some bocce ball, learn about the geology, flora, and fauna of the canyon, and just enjoy some good company. Andrae will be preparing multi-course dinners while Winemakers JF Pellet (Pepper Bridge) Chad Johnson (DV) and Corey Braunel (DV) pair them with their hand crafted wines, including some special selections from their cellars.
What's so special about this trip? Each year during the primary floating season in Hells Canyon there are 3 days a week, every other week set aside as "non-motorized" days in the Wild Section from Hells Canyon Dam to Pittsburg Landing.  Commercial permits are shared between jetboat outfitters and rafting outfitters with the non-motorized days excluding all jetboat traffic.  This means that we get 3 days of no jetboats in Hells Canyon allowing you to really soak in the immensity, sounds, and grandeur of the canyon.  We will slow the pace and float Hells Canyon Dam to Pittsburg Landing in 4 days rather than spending 5 days to go all the way to Heller Bar.  This is going to give us extra time to explore side-creek hikes to places like Granite Creek.  It is hard to imagine large ranches, communities with multiple saloons, and school houses existing in these side canyons, but hike up Granite Creek a mile and you will have an entirely new perspective on what Hells Canyon is and used to be.
Booking Information
You can book at this link, or simply call Grant or Lottie at 541-437-1111 to reserve your spot.  4 day trips are $1,295 per person and include a shuttle to the put in from Minam and a shuttle to Minam from the take-out.  If using the booking page, please choose the number of guests from the drop down menu, then click on the start date of the trip (June 2nd) to proceed.  More trip information is on the Minam Store website. Be sure to like  Wine and Food on the River on Facebook to see trip photos and keep up to date on upcoming trips. See you on the river!
Back To News