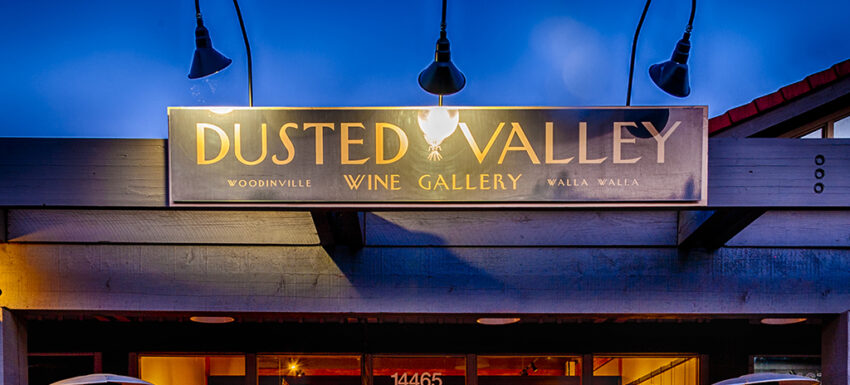 We have an awesome opportunity to join the Dusted Valley Tasting Room team in Woodinville, WA, and are looking for a new part-time addition to our team.  Please check out the position below. Interested parties may send a résumé and cover letter to ctennyson @dustedvalley.com.
---
Position:  Tasting Room Associate – Part Time
Job Location:  Woodinville, WA
Type of Work:  Year-Round, Part-Time
About Dusted Valley
Dusted Valley is a family-owned and operated winery that was established in the world-renowned Walla Walla Valley wine region in 2003. Today, Dusted Valley farms three estate vineyards in the Walla Walla Valley, partners with several other top-growers throughout Eastern Washington, and currently has three tasting rooms: Walla Walla, Woodinville and Edmonds. As a family-owned small business, we take great pride in getting to know our team members and fostering a work environment that values their professional and personal growth. The tasting room is a fun, relaxed space focused on providing memorable experiences that exceed our guest's expectations.
Dusted Valley is committed to cultivating and preserving a culture of inclusivity and connectedness, not just because it's the right thing to do, but because it makes our company stronger. In recruiting for our team, we welcome the unique contributions that you can bring in terms of education, opinions, culture, ethnicity, race, sex, gender identity and expression, nation of origin, age, languages spoken, veteran's status, color, religion, disability, sexual orientation and beliefs.
Position Summary
Dusted Valley is looking for a positive team-player with excellent hospitality skills and a "can do" attitude. This position requires enthusiasm, flexibility and initiative to master the daily operational tasks of the Dusted Valley Woodinville Tasting Room and the attainment and retention of Stained Tooth Society wine club membership. This is an exciting opportunity to be part of the Washington Wine industry through promoting our wine and the experience while acting as an ambassador representing the philosophy and culture of Dusted Valley.
Qualifications
Learns and masters Tasting Room systems and policies, in compliance with WA State Law and Dusted Valley policies.
May open and close Tasting Room and proficiently complete associated operational tasks
Demonstrates exceptional ability to act as an ambassador representing the branding and philosophy of the company
Demonstrates ability to establish strong relationships with a wide range of demographic segments
Supports and executes program initiatives, consumer events and promotions
Participates with Tasting Room team to effectively accomplish daily tasks, and company goals and objectives
Effectively achieves a safe, harmonious, and efficient workplace by executing Tasting Room systems, policies, and culture
Qualifications
Excellent customer service skills and ability to develop customer interactions that are brand-focused, leading to higher traffic and revenue
Excellent verbal and written communication skills
Enthusiasm, focus, and positive outlook
Point of Sale (POS) experience for fast-paced retail sales preferred
Professional appearance and demeanor
Ability to achieve company goals for wine club growth, retention and sales
Ability to prioritize and multi-task, as well as carry out direction from management
Possesses strong coachability; receives direction well within individual and team environments
Shows initiative; is a self-starter
Demonstrates exceptional customer service skills in fast-paced, hospitality, winery or restaurant setting
Demonstrates enthusiasm for WA wine industry and committed to expand knowledge
Possesses sense of humor!
Must be available to work weekends; may also work special events at tasting room
Has own reliable transportation
Ability to lift 45 pounds repeatedly
Maintains or will acquire MAST 12 certification (WSLCB)
Maintains or will acquire King Co Health Department's Food Handler's Permit
What We Offer
Pay is $16 – $18 per hour (DOE) plus tips and club sign up bonuses (for an average of $23-$25 per hour)
Outstanding discounts for wine for employees 21 years and older
Learning and Growth opportunities
Commitment to providing a safe and healthy environment, ensuring all safety protocols are rigorously adhered to
Interested candidates should submit a cover letter indicating their interest along with résumé to Chelsea Tennyson, Director of DTC Sales and Marketing.  ctennyson@dustedvalley.com
Back To News