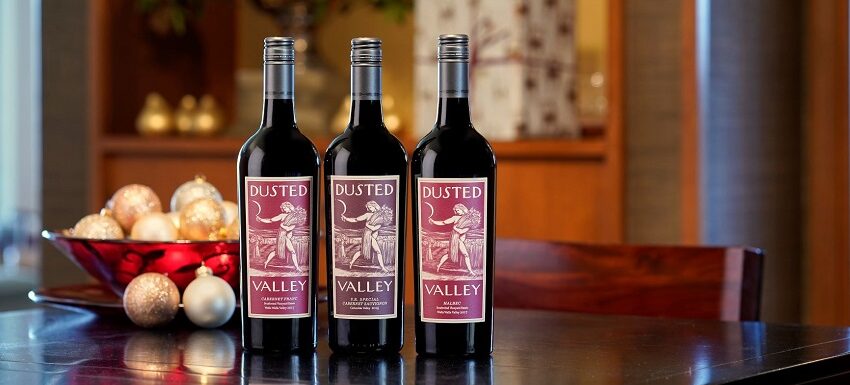 CABERNET SAUVIGNON HOLIDAY GIFT PACK
Always our most popular, this year our Cabernet 3-pack hails from premiere vineyards in the Columbia and Walla Walla Valley and is the perfect accompaniment to you or your loved one's holiday feast!

Each Gift Pack Includes:
*LIBRARY* 2017 Dusted Valley V.R. Special Cabernet Sauvignon (1 Bottle) (93 Points, James Suckling; 92 Points, Wine Advocate)
*NEW RELEASE* 2020 Dusted Valley Cabernet Sauvignon (2 Bottles)
Gift Box & Personal Note
PRICE: $109, Ground Shipping Included
---
EPIC RHONE-STYLE LIBRARY
For those who enjoy the slightly softer side of Washington Wine, this selection is sure to delight their palates. Experience the range of our Rhone-style wines through our varietal bottlings of the Stained Tooth Syrah and Tall Tales Syrah and our classic GSM blend of Squirrel Tooth Alice.
Includes:
2010 Squirrel Tooth Alice
2010 Stained Tooth Syrah
2010 Tall Tales Syrah
This package does not include gift wrap, but a gift message can be included upon request.
PRICE: $160, Ground Shipping Included
---
EXCLUSIVE LIBRARY 3-PACK: THE ROCKS SYRAH SPECIAL

For the wine lover in your life who is always seeking out that unique, one-of-a-kind wine, our signature Tall Tales Syrah is the exact gift you need. Sourced from our Stoney Vine Estate Vineyard in the renowned Rocks District of Milton-Freewater, these Library Syrahs will make this holiday season unforgettable.
Includes:
2010 Tall Tales Syrah: The inaugural vintage. (93 points, Wine Spectator)
2011 Tall Tales Syrah (91 points, Wine Spectator)
2013 Tall Tales Syrah (91 points, Wine Spectator)
This package does not include gift wrap, but a gift message can be included upon request.

PRICE: $200, Ground Shipping Included
---
WINEGROWER'S LIBRARY COLLECTION

We dug deep into our cellar for this one! With only 20 packs of this collection available, you know it's going to be something special. Our Wallatage was crafted in 2007 and 2008 from our Estate Walla Walla Vineyards.  Wallatage refers to a "Collage" of the best Bordeaux style blend our vineyards grew in those vintages.  The 2007 and 2008 vintages were heralded as stellar vintages here in Washington.  Temperatures were more near normal than they had been in the previous years and 2009 that followed, resulting in wines with beautiful balance, classic dark cherry fruits dusted by cocoa powder. These wines are drinking beautifully and exhibit the fantastic aging ability of Walla Walla wine and will also make you a believer in the consistency that our Stelvin closures bring to age worthy wine
Includes:
2007 Wallatage (92 points, Wine Enthusiast)

50% Cabernet Sauvignon, 10% Merlot from Sconni Block Estate and 40% Cabernet Franc from Minnick Hills Vineyard

2008 Wallatage

Equal parts Cabernet Franc and Petite Verdot from Minnick Hills Estate Vineyard and Malbec from Birch Creek Estate Vineyard.

2008 V.R. Special Cabernet Sauvignon (93 points, Wine Enthusiast)
This package does not include gift wrap, but a gift message can be included upon request.

PRICE: $250, Ground Shipping Included
---
DUSTED VALLEY GIFT CARDS
The perfect gift for the Washington wine lover in your life.
Shop Now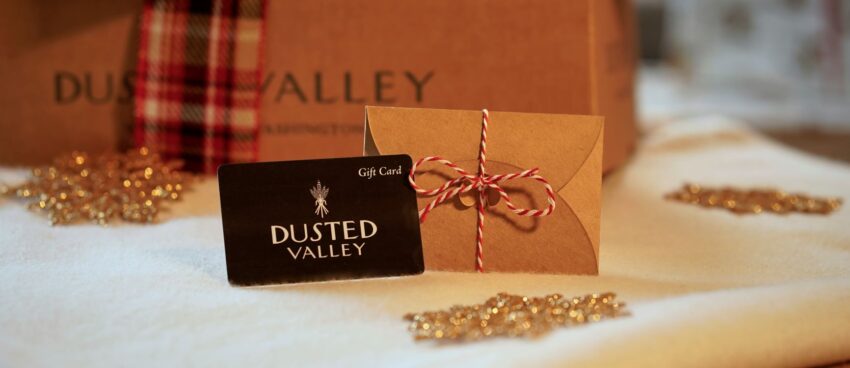 Back To News