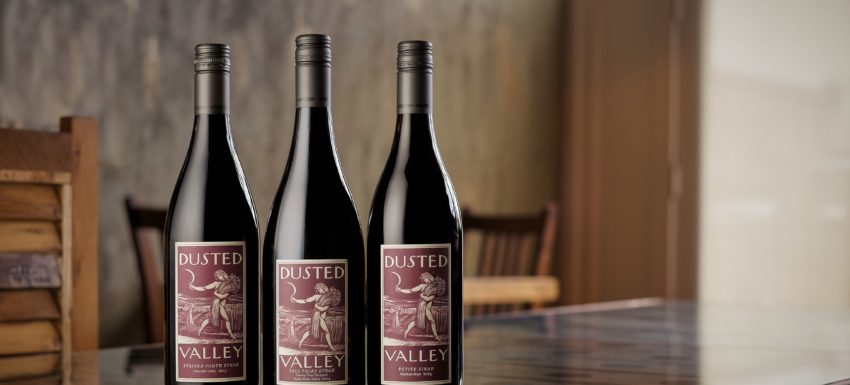 November 1 – 3, 2019
Fall Release Weekend in Walla Walla
Fall is one of our favorite times of year in the Walla Walla Valley and we're looking forward to hosting you for a tasting of our newest releases! Be among the first to taste the new Southwind Estate Vineyard designate 2017 Cabernet Franc, as well as the 2016 V.R. Special, 2017 Tall Tales Syrah, 2017 Wallywood, 2017 Petite Sirah, and 2017 Stained Tooth Syrah.
NEW this year: Winery tours with the owners!
On Friday or Sunday, we're offering a unique opportunity to book a semi-private tour with Chad Johnson or Corey Braunel at the winery followed by a tasting at our tasting room. The fee for this experience is collected at time of booking, in the amount of $25 per person, with each fee waived after a minimum wine purchase of $50. Space is limited, book now! Please contact Evelynne Clark for more information and available times: eclark@dustedvalley.com
Fall Release Friday
You can find us pouring at the Tasting Room at 1248 Old Milton Hwy from 12-5PM. Reservations for winery tours are still available at 11AM and 1PM. Contact Evelynne Clark for more information: eclark@dustedvalley.com
Fall Release Saturday
It's a party at the winery! Find us pouring in the Winery at 980 Merlot Drive, from 11AM-5PM. We'll have Andrae's Kitchen slingin' some of their famous food truck fare and passing around our traditional fried cheese curds from 11:30AM-3:00PM. In additional to delicious wines and awesome food, you'll find Kory Nagler strummin' on his guitar 2-4:30PM. *Food truck menu is available for purchase, curds are complimentary. Check out Kory's music here: https://www.korynagler.com/
Looking for something a little more low-key? We've got you covered. We'll also be pouring at the Tasting Room at 1248 Old Milton Hwy.
Fall Release Sunday
To wrap up this unforgettable weekend, it will be business as usual at the Tasting Room at 1248 Old Milton Hwy from 12-5PM. BUT you can still get a peek into the winery by booking a tour! Reservations are still available at 11AM, 1PM,  and 3PM. Please contact Evelynne Clark for more information: eclark@dustedvalley.com
Back To News