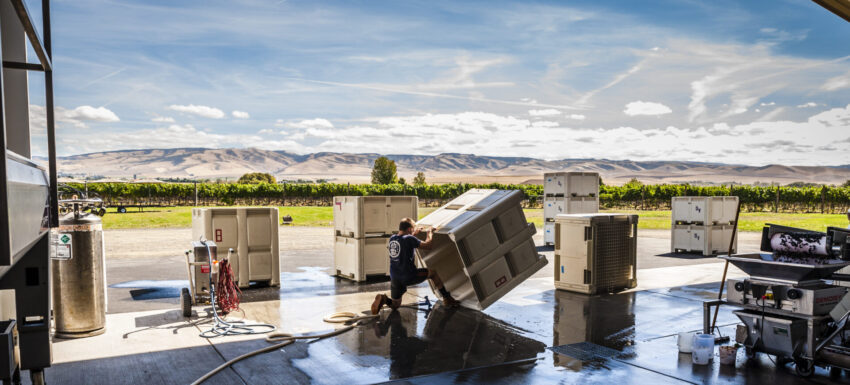 Fall Release Kicks off September 16th
It's hard to believe, but harvest is in full swing, which can only mean Fall Release is just around the corner. We are thrilled to bring you *SIX NEW RELEASES* from Dusted Valley! Starting September 16th, you can taste our new line-up in one of our tasting rooms and customize your allocation in person -OR- online for delivery direct to your door step.
---
Stained Tooth Society Members
Check out the information below for everything you need to know about this year's Fall Release.
COC & STS 6-BOTTLE MEMBERS, your fall release allocation

includes one bottle of each of the new releases listed below.

STS 3-BOTTLE MEMBERS allocations include the 2019 Chardonnay, 2019 Cabernet Franc and 2019 Mourvèdre.

If you wish to CUSTOMIZE YOUR ALLOCATION, you have until Monday, October 11, 2021. Simply, book a reservation to taste with us in Walla Walla or Woodinville or login to your account and customize your allocation online. We highly encourage you to take advantage of this option early as several of our new releases our extremely small lots, and we expect them to sell out during release.
This Fall, Members enjoy the following FLAT RATE SHIPPING rates:

3 Bottles – $20
6 Bottles – $25 (Complimentary for COC Members)
12 Bottles or more – FREE
Valid for FedEx Ground Shipping Only
Not a member of the Stained Tooth Society? Join today and instantly receive access to our small-lot wines and preferred pricing.  JOIN TODAY
---
New Fall Release Wines
2019 Chardonnay – Olsen Vineyard, Yakima Valley
100% Chardonnay
This classic Washington State Chardonnay hails from Olsen Vineyard, one of the state's premier vineyards. This is a high elevation, cool site that sits at an elevation of 1,110 feet – 1,350 feet. It was picked at perfect ripeness preserving its beautiful fruit flavors, racy acidity and natural balance.
2019 Mourvédre – Stoney Vine  Estate Vineyard, Walla Walla Valley
90% Mourvédre, 10% Syrah
This blend from our Stoney Vine Vineyard Estate will knock your socks off. We love the meaty, gamey side of this wine, along with the lush ripe fruit that provides a powerful backbone. The DV boys made only 110 cases, so when it's gone, it's gone!
2019 Tall Tales Syrah – Stoney Vine  Estate Vineyard, Walla Walla Valley
100% Syrah
Named after Corey's Grandpa Fred and his famous "tall tales," this Estate grown and produced bottling of Syrah exemplifies what the Rocks District of Milton Freewater is all about – earthy, gamey, aromatic and concentrated with a medium body.
2019 Cabernet Franc – Southwind Vineyard Estate, Walla Walla Valley
86% Cabernet Franc, 11% Merlot, 3% Petit Verdot
Varietal typicity is spot on from the floral aromatics to the dark fruits, slate, and mineral. This generous vino is fabulously food friendly and fantastically franc-o-licious!
2018 BFM – Southwind Vineyard Estate, Walla Walla Valley
84% Merlot, 13% Cabernet Sauvignon, 3% Petit Verdot
We love Washington State Merlot, and think it's one of the greatest places in the world to grow and make it. Southwind Vineyard lies on the Oregon side of the Walla Walla Valley, perched high on a ridge of ancient lava flows overlooking the beautiful Walla Walla Valley. The diversity in elevation and soil profiles make it an extremely special place to grow grapes.
2018 V.R. Special Cabernet Sauvignon – Southwind Vineyard Estate, Walla Walla Valley
94% Cabernet Sauvignon, 6% Petit Verdot
This is Dusted Valley's top Cabernet Sauvignon, and like the Cab Franc and BFM, it also hails from Southwind Vineyard. This wine is dedicated to the loving memory of Chad's Grandpa Vernon Rhodes. He was a truly amazing man, and this Cab takes its name from his miraculous chocolate chip cookie the "V.R. Special".
Back To News