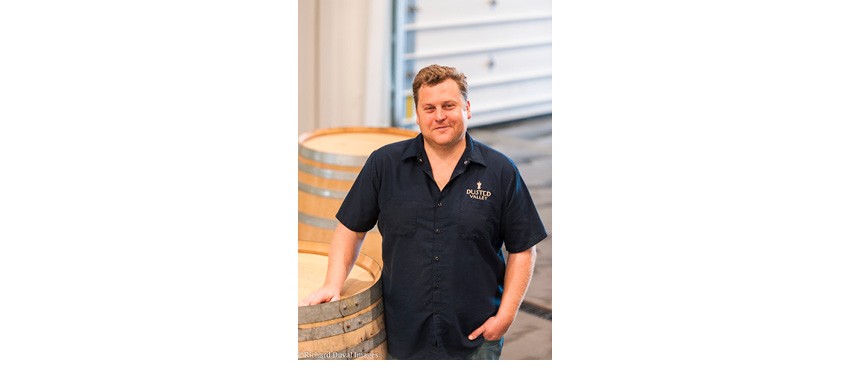 Dusted Valley Kicks Off Harvest 2014 by Welcoming New Winemaker to Family's Winemaking Team
Griffin Frey Named Winemaker for Company's Growing Brands
WALLA WALLA, WA – August 21, 2014 – Dusted Valley, a family owned winery in the Walla Walla Valley since 2003, announced Griffin Frey has been hired as the company's portfolio winemaker.  A California native, Griffin moved to Washington to study history at the University of Washington (UW). After graduating in 2001, he returned to California where he began his winemaking career at Ramey Wine Cellars in Healdsburg and later the Sonoma Coast. While at UW, Griffin became interested in the fledgling wine industry gaining speed in Walla Walla and came back to Washington in 2010 to pursue his career in Washington wine.
"I am honored and excited about joining the Dusted Valley family. The opportunity to make wines from the best vineyards in the state while being surrounded by a great team is a testament to what the Dusted Valley crew has already accomplished. I look forward to contributing to the wine quality and growth of an already stellar brand," says Griffin.
As production grows across Dusted Valley and Boomtown, Co-Owners and Co-Winegrowers, Chad Johnson and Corey Braunel, identified the need to add an experienced winemaker to the team. "We are really excited about this evolution in winemaking for Dusted Valley," says Chad. "I'm confident that Griffin's experience with many of the same world class Washington vineyards we work with, his skill set and attention to detail will translate into great things for Dusted Valley and build upon the solid foundation that we've put into place."
While Chad and Corey will continue to have an active presence in the cellar, the new addition to the team will allow them to focus more time on Dusted Valley's estate program and grower relations, as well as sales and marketing for the company.
"We have been looking for just the right individual to join our team, and Griffin was the natural choice," says Corey. "We've admired the wines he has crafted for years, and he and his family are a welcome part of the Dusted Valley family. This is an integral piece that is really going to help propel our brands forward in the coming years, and we couldn't be more excited."
About Dusted Valley:
This year Dusted Valley proudly celebrates their 11th anniversary of growing and crafting spectacular Washington State wine under the Dusted Valley and Boomtown by Dusted Valley labels. With strong roots in agriculture, brothers-in-law Chad Johnson and Corey Braunel focus their wine growing philosophies in the vineyard with sustainable practices, low (or modest) yields and minimalistic winemaking. The resulting wines offer a sense of place and showcase their estate vineyards in the Walla Walla Valley and other premier vineyards throughout the state. At roughly a 5,000 case operation, Dusted Valley offerings include Cabernet Sauvignon, Syrah, and Chardonnay, along with Bordeaux and Rhone Style blends. Dusted Valley proudly shares "the good life" with friends and fans at their two tasting rooms– one at the foot of the Blue Mountains in Walla Walla and one near Seattle in the heart of Woodinville, Washington. At roughly 20,000 cases, Boomtown is available through fine restaurants and wine retailers throughout the country with current offerings include Chardonnay, Pinot Gris, Cabernet Sauvignon, Merlot and Syrah.
Back To News